Description
For the first time ever, we have enough fresh neem seeds from Senegal to sell them!
And this second batch has been certified as fresh and viable by the Senegalese government, which is working to promote neem as an industry. We got great germination on the first batch though. Along with the seeds that popped up as expected in 15 to 20 days, we're still seeing little baby neem seeds poking their heads out of the soil after nearly five weeks. (Look carefully at the bottom of the photo and you can see them.)
We're not sure on an exact date when they will arrive but we like to sell them in advance so we can ship them the day we get our hands on them.
Proceeds from the sale of these seeds will benefit the Senegal Neem Foundation, which is working with the government to help create a neem industry in Africa. As neem gets more and more popular, supplies in India are stretched thin, so we all benefit with new sources of neem.
These neem seeds are visibly better plants than what we've grown before — seeds we planted in December could easily be confused with other seedlings that were planted last July.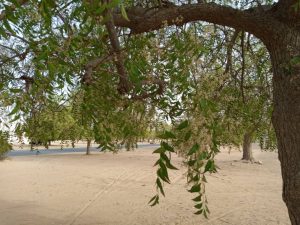 That's probably because they came from trees that are growing in the Sahara Desert where they've been considered a "weed tree" until recently. The Mexican trees where our neem seeds had been coming from are carefully cultivated, and Indian trees are so valuable that it's illegal to export viable seeds. The photo shows neem trees growing in Senegal — they have to be tough to handle that kind of sandy soil and no rain!
These neem seeds will ship from Florida so you don't have to wait on an overseas package, but they do need to be sold quickly. They're only viable for about 30 days after they're harvested so they need to be in the ground ASAP.
Please read the growing directions before the seeds arrive so that you're ready for them when they get there.