Description
We just got our second batch of neem seeds this year from the same farmers in Senegal. That first batch was amazing. They popped up far more quickly than we expected and the seedlings — now less than six months old — are an easy 20 inches tall with spectacular root systems. We can't ever guarantee germination because there are so many variables in when and how they're shipped, but we have high hopes for these.
The 20-packs of seeds are BOGO because we want to sell them quickly and don't have that much room left in the greenhouse here. We did plant enough that we should have lots of sprouts in six or eight weeks though.
Proceeds from the sale of these seeds will benefit the Senegal Neem Foundation, which is working with the government to help create a neem industry in Africa. As neem gets more and more popular, supplies in India are stretched thin, so we all benefit with new sources of neem.
We think these seeds are so exceptional because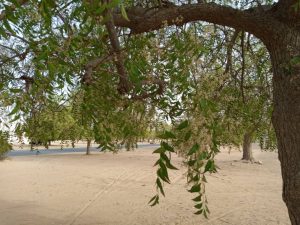 they came from trees that are growing in the Sahara Desert where they've been considered a "weed tree" until recently. The Mexican trees where our neem seeds had been coming from are carefully cultivated (originally from Indian seeds) and Indian trees are so valuable that it's illegal to export viable seeds. The photo shows neem trees growing in Senegal — they have to be tough to handle that kind of sandy soil and no rain!
These neem seeds will ship from Florida so you don't have to wait on an overseas package, but they do need to be sold quickly. They're only viable for about 45 days after they're harvested so they need to be in the ground ASAP.
Please read the growing directions before the seeds arrive so that you're ready for them when they get there.