Description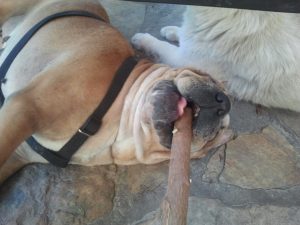 Not all dogs love neem chew sticks the way Matilda (shown here) does, but they're a great way to introduce neem to your dogs. Matilda literally follows us out to the greenhouse so she gets first pick on neem chew sticks before the rest of the dogs arrive. For customers, they're picked the morning they're shipped so they arrive as fresh as possible – with no chew marks from the pups here.
All-natural neem chew sticks help clean teeth and build a healthy immune system.
Please let us know what size dog you're ordering for (place a note in the comment section) so we don't send Rottweiler-sized neem sticks to your Yorkie! Neem chew sticks also are available as a free sample so your pup can taste-test them before you buy an entire package.
INGREDIENTS: 100% neem bark. Harvested and shipped the same day from our farm in Florida, 100% natural neem chew sticks are packed in paper bags with no preservatives.